Experience the Shoton festival

The most vibrant, happy and colorful festival of Tibet

Picnic during Shoton

Tibetan family visit Norlinka to enjoy picnic during Shoton festival

Enjoy Picnic during Shoton

Tibetan family visit Norlinka to enjoy picnic during Shoton festival

Experience local drink

Be a part of the unexpected experiences
Shoton Festival Tour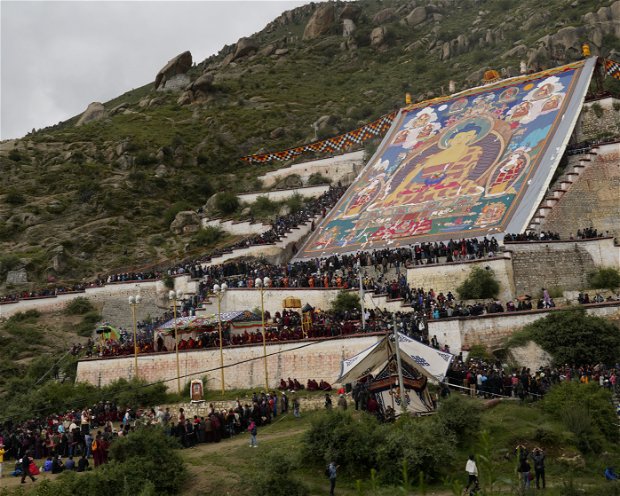 Trip Facts:
Tour Name : TIBET – SHOTON FESTIVAL TOUR - 6 Days
Entry / Exit : Fly in / Fly out
Grade : Easy
Max Elevation : 5045m/ 16548Ft.
Accommodation : Hotel
Meal : Bed & breakfast
Transport : Flight & Private vehicle
Tour Days : 06
Date : 13 - 18 August 2023

Trip summary:
This Tour is designed to give you an experience of witnessing the most popular vibrant festival of Shoton also called Curd festival.  Early morning visit of Drepung Monastery where a giant Thanka paining of Buddha will be unveiled by hundreds of Monks chanting religious prayers and rituals. Later grand cultural ceremony takes place in massive square in front of biggest landmark of Tibet, Potala palace. This is the summer festival of happiness and joy, everyday opera show and other cultural activities will be performed by various groups of people from around the Tibet takes place at the public courtyard of Norbulinka Palace (summer palace of Dalai Lama). In ancient time, Dalai Lama used to enjoy this show in this summer palace.       

The tour begins with a comprehensive trip briefing in Kathmandu followed by a sensational trans Himalayan flight to Lhasa that passes over Mt. Everest and many highest peaks of the world (if you join the tour in Kathmandu). This is the only flight fly over Mt. Everest and other highest peaks. In case you wish to start the tour in Lhasa arriving from anywhere in mainland China or taking a new train from Beijing you will be briefed about the tour by your Tibetan Guide.
Upon your arrival you will drive to Lhasa, you will be taken on a sightseeing tour to Lhasa visiting major Palaces, monasteries, acclimatizing & to absorb the exoticism of Tibetan heritage & to explore this history – Laden city to its core. In route you will visit ancient town of Gyantse, Shigatse and many other villages en-route. You get to explore colorful mosaic of Tibetan arts, crafts, history, culture, custom, tradition, lifestyle and cuisine and you become a witness to a host of indigenous cultures including untamed (drokpas) nomads en-route driving through highest Plateau on Earth. This is truly the trip of a lifetime with stunning scenery and cultural highlights.
Gallery
Itinerary
Rates
Services included:
Note: Given Price is for high season (July/Aug/Sept) & Based on 3 star Hotel.
Twin sharing accommodation as per the itinerary on bed & breakfast (BB) basis.
English speaking Tibetan Guide.
Transportation as per the itinerary by necessary vehicle.
Monastery entrance fee.
Tibet Travel permits.
One picnic lunch
Emergency mineral water in the vehicle.
Emergency portable oxygen cylinder in the vehicle.
Trip briefing by Tibet expert & entertain question.
Trip Information pack.
Gift pack (prayer flag or string of flag & paper prayer Lungtha).
Note: Offer Prayer flag or Lungtha (string of prayer flag) in high passes, temple for good fortune & long life.
Services excluded:
Tibet Visa Fee (Acceptable in US$ cash only as per the Nationality).
Any Airfare
Travel insurance.
Expenses during any rescue operation.
Lunch and Dinner
Alcoholic beverages & bar bills.
All expenses of personal nature, phone calls, laundry etc.
Gratuity to staff.
Services not mentioned herein.