Visa Fee 2023
To:          Friends and Business Associates
Fm:         Basanta Adventure, Naryan Chaur, Naxal, Kathmandu
Dated:    12th April, 2023
Re:          Tibet Tour
Dear All,
For your kind information:
Tibet Visa Fee Structure for Tourist traveling to Tibet Autonomous regions (TAR) via Kathmandu, Nepal.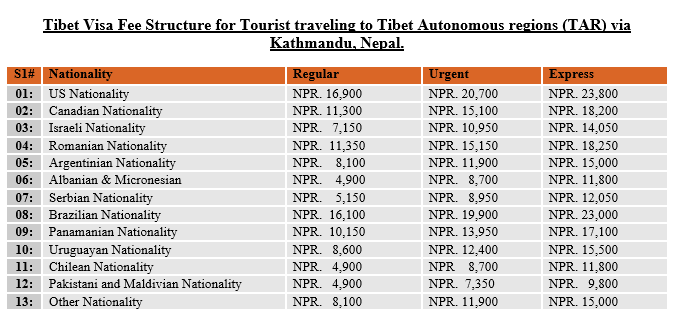 Regular Service:
The processing time is 4 working days from the day of application.
Urgent Service:
The processing time is 3 working days.
Express Service:
The processing time is 2 working, please note that this service requires prior approval from Chinese Embassy.
Visa working days are Monday to Friday.
Visa application must be submitted before 11am along with original passport
Visa will be issued in afternoon at 2pm.
Documents required:
Clear copy of passport one month before departure must be valid minimum 6 month.
Photo as per the Chinese embassy guideline
Dully fill up online visa form upon arrival in Kathmandu (BATE will take care of it)
Original passport upon arrival
Visa fee as per the visa fee structure
We request all our partners to plan the program according to above information.
Please do feel free to let us know if there is any confusion.
Thank you.
Kind regards,
Siddik Kunwar
Authentic Tibet Travel Expert since 1998