TIBET – CENTRAL AND WESTERN OVERLAND TOUR - 13 Days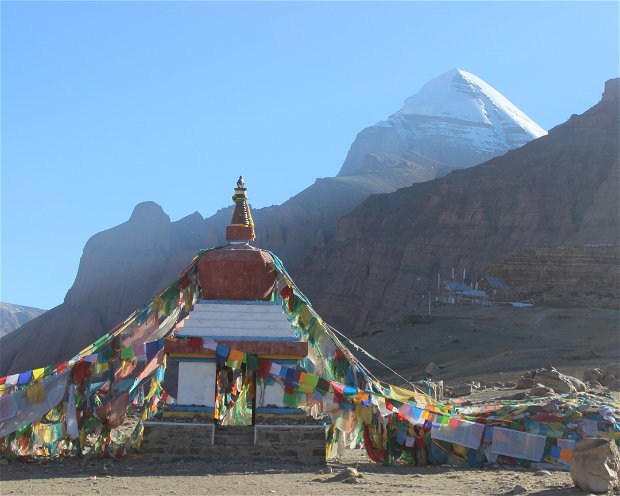 Trip Facts:
Tour Name : TIBET – CENTRAL AND WESTERN TIBET OVERLAND TOUR - 13 Days
Entry / Exit : Fly in / Drive out
Grade : Adventurous
Max Elevation : 5630m/18466Ft.
Accommodation : Hotel/Guest House
Meal : Bed & breakfast
Transport : Flight/ Private vehicle
Tour Days : 13

Trip summary:
The beauty of the 6700-meter high Mount Kailash that looks like a symmetrical cone shaped rock capped by pure crystalline ice is equally venerated as the holiest pilgrimage site by Hindus, Buddhists, Jains and Bön-Po. Tibetans regard this mountain as the manifestation of Mount Meru, "the navel of the earth" where founder of Bon religion, Tonpa Shenrab, is believed to have descended from heaven, Hindus as the abode of Lord Shiva, Buddhists as the abode of Samvara and Jains as a sacred site where their prophet, Rishaba attained spiritual enlightenment. With its four sheer walls, distinctive snow-capped peak, and valleys interspersed with brightly-clad Tibetan pilgrims, Mount Kailash or Khang Rimpoche ('precious snow-peak', as known by the Tibetans) is an awe-inspiring sight.
Four great rivers of Asia: the Karnali, the Indus, the Sutlej and the Brahmaputra (Tsangpo) originate from here. A three-day trek (Parikrama or Kora) around Mount Kailash over a 5630 meter Drolma La (pass), clockwise for Buddhists and Hindus, and anti-clockwise followers of the ancient Bon religion, is said to erase the sins of a lifetime. To complete the Kailash pilgrimage one should bath in the sacred Lake Manasarovar, stunningly set on the Tibetan plateau bordered by the majestic Gurla Mandata.
The tour begins with a comprehensive trip briefing in Kathmandu followed by a sensational trans Himalayan flight to Lhasa that passes over Mt. Everest and many highest peaks of the world (if you join the tour in Kathmandu). This is the only flight fly over Mt. Everest and other highest peaks. In case you wish to start the tour in Lhasa arriving from anywhere in mainland China or taking a new train from Beijing you will be briefed about the tour by your Tibetan Guide. This is truly the trip of a lifetime with stunning scenery and cultural highlights.
Gallery
Itinerary
Rates
SERVICES INCLUDED:
Twin sharing and dormitory accommodation as per the itinerary on bed & breakfast (BB) basis.
English speaking Tibetan Guide.
Transportation as per the itinerary by necessary vehicle.
Monastery entrance fee.
Rongbuk Entry Fee & Everest Conservation Fee
Tibet Travel permits.
All necessary entrance permits.
Yak and Yak Man
Emergency mineral water in the vehicle.
Emergency portable oxygen cylinder in the vehicle.
Trip briefing by Tibet expert & entertain question.
Trip Information pack.
Gift pack (prayer flag or string of flag & paper prayer Lungtha).
Note: Offer Prayer flag or Lungtha (string of prayer flag) in high passes, temple for good fortune & long life.
SERVICES EXCLUDED:
Tibet Visa Fee (Acceptable in US$ cash only as per the Nationality).
Any Airfare:
Transportation: Kyirong border - Kathmandu
Travel insurance.
Expenses during any rescue operation.
Lunch and Dinner
Alcoholic beverages & bar bills.
Hiring personal Yak and Horses during Kora
All expenses of personal nature, phone calls, laundry etc.
Gratuity to staff.
Services not mentioned herein.