Customer story: Spiritual Journey to Tibet & Nepal
Posted on Mon May 3, 2021.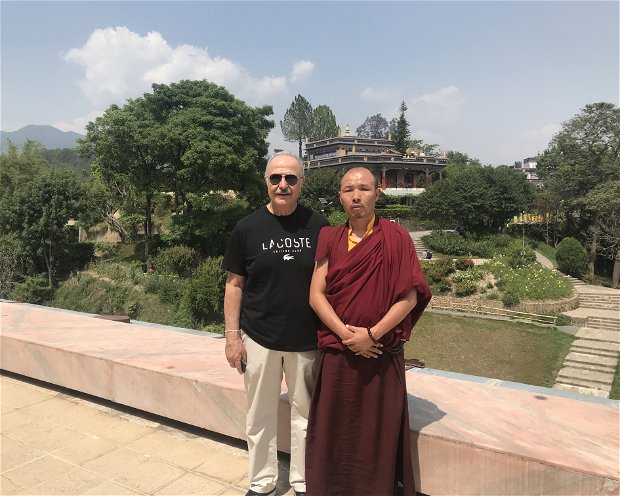 It was back in March 2019, during our visit to Travel Fair of ITB, Berlin in Germany. Ms. Cybele from Lebanon randomly visited our company stand, during conversation, she started crying when she realized that we are Tibetan and we organize trip to Tibet. Ms. Cybele told us that her father who is a retired executive and he has been longing to visit Tibet for many years for very special spiritual journey and perhaps inner peace. We were not sure about obtaining visa for Lebanese national, after spending much time, we said good bye to each other. After the fair, we return home. We requested the authority to grant him invitation letter to enable Mr. Salim to visit Tibet, authority accepted the visa application and issued invitation letter which we forwarded to Ms. Cybele hoping Chinese Embassy will issue Visa for him. After few weeks waiting anxiously, Mr. Salim received his Visa to travel Tibet, Ms. Cybele was over the moon knowing the fact that his father will be finally traveling to his much awaited place.
Now our concern was to ensure safety and wellbeing of elderly person traveling from sea level to highest plateau on earth over 4000m, but Mr. Salim had no problem and he visited all the major temples, power places, took part in special prayers season with high monk, he learned and practiced meditation conducted for him by Buddhist Nun. Mr. Salim was escorted by our trusted senior and well experienced Guide who happened to be former monk during his entire trip in Tibet.
After Tibet, Mr. Salim visited birth place of Buddha in Nepal and again visited power places located around the Kathmandu valley. Mr. Salim returned home safely after fulfilling his inner desire to visit places he always wanted in his life.
We felt blessed and lucky to be able to help Ms. Cybele fulfilled her father`s dream. We have organized several similar spiritual and life changing holiday but this was something very special.
Author - Basant Bajracharya
Salim from Lebanon had been dreaming of traveling to Tibet for many years in search of peace and harmony for himself. His daughter Cybele tried to arrange many times but failed until she meets the basantatibet team in Berlin at ITB Travel fair. Basantatibet successfully organized issuing special permits which are not easy always for Lebanese citizens. Salim visited all the major pilgrimage sites in Tibet fulfilling his dream and managed to find a teacher (Guru).